27/08/2020
Everything you need to know to choose the right size of tights
Tights are undoubtedly a piece of clothing that helps you make a good impression. When deciding to buy them, consider the following:

• quality of tights,
• your style,
• the right size.

When buying tights, the most important to consider is size!
We repeat: SIZE IS THE MOST IMPORTANT.


Not only does wearing tights that are too small mean you'll most likely tear them as soon as you leave the house, but the feeling when wearing them is also quite uncomfortable. And it doesn't take long for an all-day-long uncomfortable feeling to start affecting your mood.

Tights are available in sizes S, M, L, XL and 2XL, which are determined proportionally to height and weight. If you come across "one size" tights, proceed carefully and make sure that they really suit you

So, are you ready to feel comfortable in your tights?

Below you can find everything you need to know while choosing the right size of tights for yourself.





SIZES VARY
The size of tights is not the same as the size you choose when buying a new pair of jeans. Sizes also vary among different tights providers.

Different tights are made in different ways, they have different texture and are made from different materials. So before buying them, ALWAYS check the size chart. The size chart is based on height and weight and is usually located on the back of the packaging.

If you want to determine the size of the tights, find your height in centimetres (cm) and your weight in kilograms (kg) in the table. Look for where height and weight intersect and you have determined your size.

Don't be worried if the final size is larger than usual – that's perfectly normal.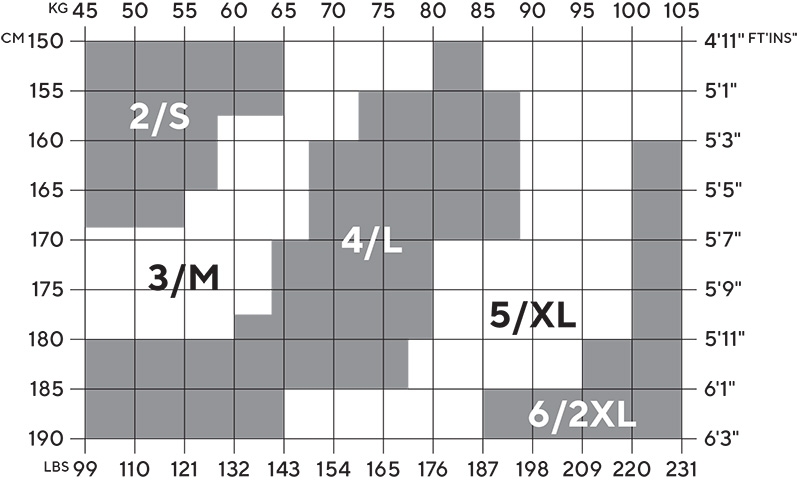 LARGER IS BETTER
If, when reading the size, you find that you are between sizes or at the upper limit of the size range, always opt for a LARGER size. Given the tight fit of tights, it's always better for them to be larger than too small.





LOOKS CAN BE DECEIVING
Tights can be of different shapes and materials, so don't be fooled by their look. When you take them out of the packaging, they can sometimes seem too small or too big, but looks can be deceiving.

Tights are not one of those products that can be measured or compared when you put them next to each other because they are stretchy and they adapt to your body. If you followed the table correctly, then you most likely have the right size in your hands.





THE LARGER SIZES OF TIGHTS ARE DIFFERENT
Women with greater curves and those who usually wear larger sizes need more support than those wearing smaller sizes. So, buy tights that are available in larger sizes. They often have an additional gusset and reinforced seams for a better fit.

Look for the larger size symbol on the back of the packaging.