30/07/2020
WOW, YOU'RE WEARING MY SWIMWEAR by Maja Nedič
Do you want to know how fashion lingerie collections are created? Who are the people who create our most intimate clothes? Some secrets of fashion designers were entrusted to us by the designer Maja Nedič, who designs the Lisca Cheek collection. We talked to her about her beginnings, ideas, compliments, and creations.
1. . Have you always wanted to be a lingerie designer?

My desire to design fashion lingerie came in college. I wanted to get acquainted with this type of fashion design as well, since in college we only designed dresses. The ideal opportunity to realize this desire was writing my master's thesis, which was the first time I collaborated with Lisca. It was something through which I could "go crazy" and create something new – my first mini lingerie collection. The collection was inspired by architecture; I played with interesting shapes and transparency.



2. From where do your best ideas come, when designing?

Ideas are born along the way, mostly when I find a fabric that I like and would like to use for a collection. New ideas also come up as I draw sketches and think about the details and their positioning – I strive to make lingerie even more interesting and contemporary. When creating, I am also greatly influenced by the trends presented to us at trade shows, in fashion trend books, and on specialized websites.

Sometimes I get a good idea when I have to dress up for a special occasion, myself. Of course, the bra I need in that very moment is not in my wardrobe. Almost all women can probably identify with me. I introduce these fashion solutions later to my design.



3. Which styles are your favourites and why?

Underwired bras are my favourite! They are very soft, contemporary-looking, and unstoppably feminine.



4. What is your favourite colour of lingerie? What kind of lingerie do you like the most?

Always black, no matter what the material or form (laughs).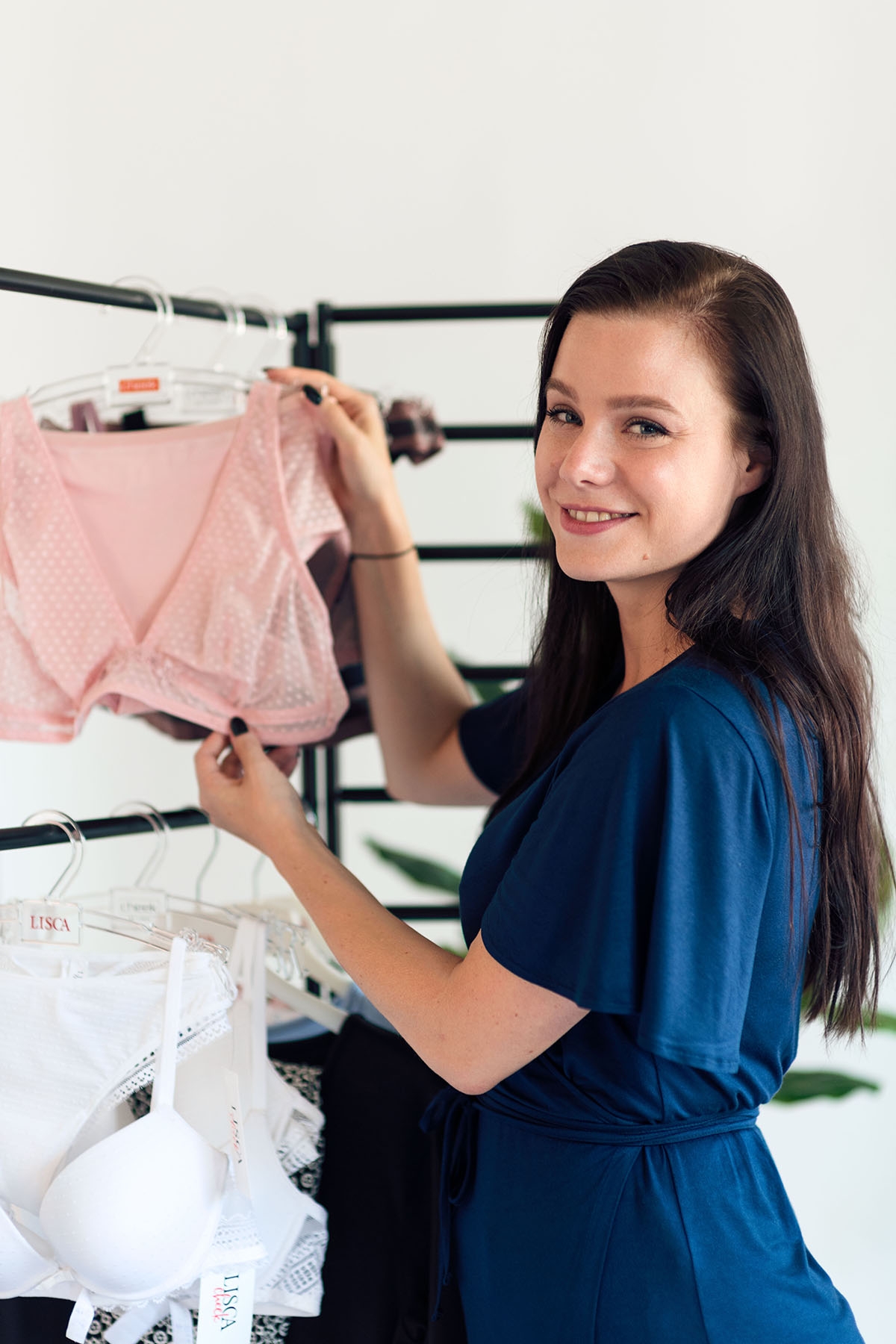 5. What do you look forward to most when designing lingerie: the initial idea or having the final product in your hands?

I definitely always look forward to the initial idea when I look for inspiration and fabric combinations for the new season. Finding something new and always fresh is a big challenge. But most of all, I look forward to the day I first see a product on a woman, because only then does it really come to life and show its true form.



6. What is the most beautiful praise you have received and that has remained in your memory?

The greatest praise I can receive is seeing a women wearing my swimwear in the summer. As I walk past them, I often think, "If only you knew who made those so you can wear them now. If you only knew the process needed for you to wear them with that smile on your face." Yes, when I see women wearing my designs, I feel really good! Generally, it's nice to hear that the styles are appealing and that the customers are happy with them.



7. What do you pay most attention to when designing lingerie? Is it the look, comfort, or maybe something else?

I pay attention to the appearance of the style; what the style will look like when it is put on, what I want to emphasize on a woman's body and what I do not… I always make sure that comfort and function do not suffer, because that is the most important thing in lingerie. We are in our underwear most of the day, so it has to be comfortable and pleasant to wear, like a second skin!



8. Reveal a secret, please: What will you surprise us with in the future?

With numerous beautiful collections and new, interesting styles that you absolutely must try! :) (mysterious smile)